Most of these instructions apply to adding other kinds of accounts in QuickBooks, but we will be looking specifically at bank accounts in this example.
You should have  bank account in QuickBooks for each bank account your business has (this includes PayPal). So if you open a new one, you'll need to add it to your  QuickBooks chart of accounts as well.
1. The first step is to open your QuickBooks company file.
2. Then open the Lists menu and select Chart of Accounts (List->Chart of Accounts)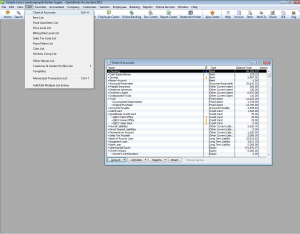 3. Click the "Account" button and choose "New"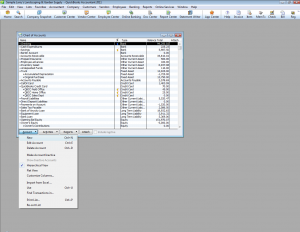 4. You will now be asked to choose an Account Type. Select "Bank" and click continue.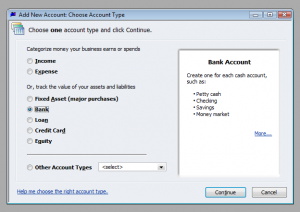 5. Finally, you will be asked to enter details for the new account:
Account Name: Choose a descriptive name so you can easily identify it on statements and drop down menus (e.g. Payroll Checking, XYZ Bank Checking, Savings, etc.).
Subaccount of _______ : This is optional. If you have multiple accounts at multiple banks, entering the bank name in this field is a good way to group them. Otherwise I'd leave it blank.
Description: This is kind of redundant if you picked a good account name. I usually leave it blank.
Bank Acct. No.: Leave this blank. You can fill it in later if you decide to use online banking.
Routing Number: Leave it blank.
Tax-Line Mapping: This can be useful if you plan on integrating with TurboTax for Business. If you work with a tax preparer, you can skip this field.
Opening Balance: If this is a new account, the opening balance would be zero, so there is no need to enter anything.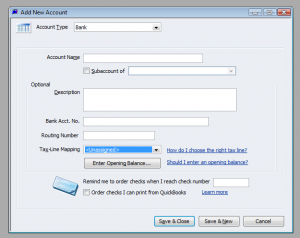 6. Click Save & Close and you're done!