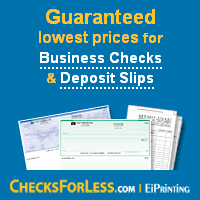 If you're already familiar with the time saving benefits of printing directly to QuickBooks checks, then head over to EiPrinting at checksforless.com


and save yourself some money on your next check order. I use and recommend their 1 part laser voucher check.
If you're curious about the advantages of using QuickBooks checks, then please keep reading…

Why printing checks out of QuickBooks saves time:
It allows you to write checks, record and classify bill payments in QuickBooks, generate a voucher confirming the payment and even address envelopes in a single step that usually takes less time than writing a check by hand.
Let's compare this to writing checks by hand.
Manually fill out the check
Either manually file out a check stub, enter it in your check register or enter it in Quickbooks
Write the vendors address on an envelope
Make a copy of the check to file with the bill or note the check number used to pay it
You're looking at a minimum of four steps. More if you didn't enter the check in QuickBooks in step 2, because you (or someone else) will eventually need to go back and do that. I haven't met anyone who looks forward to setting aside a block of time to record a stack of check stubs in their accounting software.
How to use QuickBooks compatible checks
While you can just write the check (go to Banking->Write Checks… and mark the "to be printed" box) it's most effective to start the process when the bill arrives. That way you can also use QuickBooks to track due dates and paying the bill is a simple as checking it off on a list.
When you receive a bill, go to Vendors->Enter bills… and fill out the amount, due date, and account or item that tells QuickBooks where to post it. Then when you're ready to pay it, you can bring up a list of unpaid bills (Vendors->Pay bills…), select all the bills you want to pay, load the check paper and hit print. The great thing about this process is that it saves even more time when you have more checks to write. Instead of sitting down to fill out ten checks by hand for example, you just click mouse ten times and hit print.
If you are using voucher checks, tear off the bottom portion and file it with the bill. The vendor name and address will be printed on the check, so just insert the check and middle voucher into a window envelope and it's ready to mail.
What checks work best?
I use 1 part laser voucher checks with only the signature line. The rest of the printable area of the check is pretty much blank. This is because I've occasionally found the need to print checks from sources other than QuickBooks, and the blank checks save me the hassle of dealing with alignment issues.
The downside of ordering checks without the lines is that if you do need to write a check by hand you have to remember where everything goes. One solution is to have manual checks with a different check number range from your laser checks so it's easy to identify if there's any question about it later. This is actually a great idea for business owners who have a bookkeeper but occasionally write checks themselves. Otherwise, just order QuickBooks compatible checks with the lines and you'll be fine.
Another reason I like ordering from EiPrinting

is that they have software compatible envelopes so the return address and vendor address on the checks shows through the windows. It's kind of hit or miss if you can find the right envelopes at the office supply store, and it doesn't make sense to fill out a standard envelope when the information is already printed the check.